The big snowfall story for the rest of the week will be in the Pacific Northwest, as a storm is set to drop multiple feet of snow across the region. Rocky Mountain states like Colorado, Utah and Wyoming will also see a fresh dump of snow this week as well. On the other side of the country, after seasonable temperatures early in the week, heavy snow storms will move into the eastern United States beginning Thursday night. Here's where the snow will fall in your region, with the help of our friends from OpenSnow.com.
This week's snowfall map, courtesy of OpenSnow.com.
The Pacific Northwest…
Heavy snow is expected to fall in the Pacific Northwest throughout the majority of this week. The storm will move into Washington on Tuesday, and will bring 19 to 41 inches of snow to areas like Crystal Mountain, Stevens Pass and Alpental, while powder king Mt. Baker could see 36 to 63 inches of snow in that time period, that's right, 36 to 63 inches. From there, another storm will hit the state, bringing an additional 16 to 22 inches of snow to Mt. Baker on Saturday night.
In Oregon, Timberline, Mount Hood Meadows, and Mount Bachelor all have a chance of seeing 15 to 29 inches from Tuesday night through Thursday night.
The mountain cam at Stevens Pass. Hit refresh for up to date storm images.
Utah…
Snow will move into Utah beginning on Wednesday, with most areas of the state expecting solid snowfall from the storm. Powder Mountain and Beaver Mountain could each see 8 to 17 inches of snow through Thursday night, while Snowbird, Alta, Canyons, and Park City Mountain Resort will be in the 7 to 14 inch realm.
Snowbird's Peruvian Gulch web cam. Refresh for up to date snowfall images.
Colorado…
After receiving massive snowfall totals over the past couple of weeks, the snowy trend will continue for the Centennial State this week. The storm will move into most mountain areas on Wednesday night, with resorts in the northern mountains, like Steamboat and Winter Park, anticipating 5 to 12 inches through Thursday night. Copper Mountain, Vail, Breckenridge, and Arapahoe Basin are all expecting 3 to 8 inches within that time frame. OpenSnow founder Joel Gratz does make note that, like last week, temperatures will be fairly high for the Colorado Rockies, resulting in denser snow, so expect a workout surfing that powder.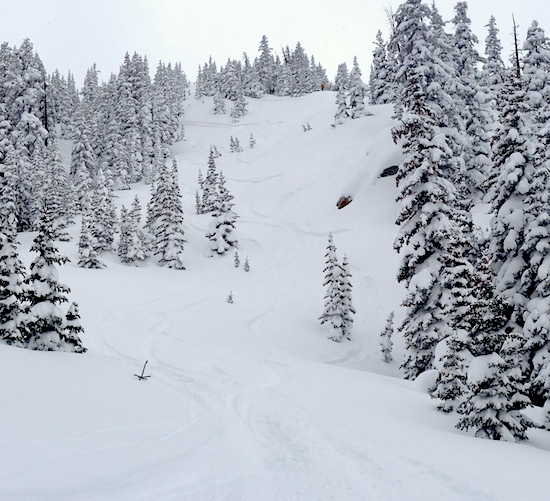 A look a what conditions have been like in Colorado, courtesy of OpenSnow.com's Joel Gratz.
The Northern Rockies…
The Northern Rockies should benefit a bit more from the storms this week than the rest of the Rockies. In Idaho, snow will begin to fall on Tuesday night and continue through Friday night. Huge snow totals are expected for Schweitzer (16 to 29 inches) and Silver Mountain (17 to 39 inches), while the rest of the state will be in the 5 to 13 inch range.
In Wyoming, Jackson Hole will see snow for the entirety of the week, and should end up with 21 to 43 inches when it's all said and done. Grand Targhee will also see huge totals, in the 22 to 42 inch range.
Montana is also looking to get in on the action, with snow totals in the 7 to 17 inch range for Discovery Ski Area, Montana Snowbowl, and Turner Mountain by the end of the week.
Jackson Hole's Gondola web cam. Click refresh for updated storm images.
The Northeast…
Snow will begin to fall in New England starting on Thursday and continue throughout the night. By Friday morning Vermont resorts like Jay Peak, Burke Mountain and Stowe should have 5 to 10 inches of fresh powder on the ground.
New Hampshire should see a little bit more snowfall than Vermont, with Attitash, Cannon, Cranmore and Loon Mountain expecting 9 to 14 inches of snow by Friday.
Maine could be the biggest winner in the east; Mt. Jefferson is projected to receive 12 to 19 inches, Sugarloaf should see 11 to 19 inches and Saddleback can expect 11 to 17 inches from Thursday through Friday morning.
Mount Snow's summit webcam. Click refresh for updated storm images.
The Midwest…
Cold temperatures will continue to persist throughout the Midwest, with a chance of snowfall for Michigan's Upper Peninsula this week. Mount Bohemia, the powder king of the Midwest, along with Blackjack and Big Powderhorn, should see 2 to 8 inches of snow this week.
The Sierra Nevada…
After a much needed dump of snow, some areas reported 5 foot storm totals, this week will be fairly dry for the folks in California. The next chance for snow in the Sierra will be on Saturday night.