"We kind of regretted not bringing more booze. We didn't know how much room we would have on the heli, and so we definitely didn't bring enough beers. We were rationing them down to the final can."
This fairly throwaway quote from photographer Max Lowe constitutes the height of drama for the trip. He's referencing a week-long foot-powered backcountry trip in British Columbia he took last March with Faction riders Duncan Adams, Antti Ollila and Tim McChesney. There were no serious, yard-sale-inducing falls. No hellacious storms that socked in the crew. No nights of drunken debauchery that ended in fisticuffs.
Which, for the protagonists of our story, is a good thing. Bluebird skies and perfect conditions are what every skier dreams of.
For a writer assigned to execute a story on the trip, hearing "everything went according to plan," presents a slight challenge. Nobody would have read Moby Dick if it was about a fisherman who went on an uneventful fishing voyage, right? So then, where do we start with this excursion? Let's go back to the beginning.
"We wanted to go on a dream trip: deep snow, pillow lines, no tracks. The team wanted to go out into the wilderness, away from everything, and focus 100 percent on skiing," says Faction Team Manager Tim Harty of the trip's origins. "For us, British Columbia is almost synonymous with backcountry skiing, and it was Antti Ollila's backcountry debut. It was our first trip to Canada, we've always wanted to go and this year we finally made it happen."
The most obvious narrative surrounding the trip is found in Harty's penultimate statement: It was the backcountry baptism of Finnish freeskiing extraordinaire Antti Ollila. The 23-year-old former Olympian has an endless bag of slopestyle and street tricks. However, he had never even put skins on before being heli-dropped at Golden Alpine Holidays' Sunrise Lodge, deep in the heart of the Selkirks for a week of touring.
That's a bit like entering a 400-meter medley as your introduction to the swimming pool. So, were there any growing pains? Maybe Ollila forgot to lock in his heelpiece before dropping in on a line?
"Actually, yeah, Antti had a pretty funny moment right when we showed up in BC," says Lowe, who shot the trip along with Faction's de facto filmer–Etienne Merel. "We all showed up at the heli-op, and there are all these Canadian touring jockeys everywhere. And they're all fully kitted out in Gore-Tex head-to-toe, and then all of a sudden Antti rolls up in his super baggy pants and jacket looking like he's about to shoot a street segment."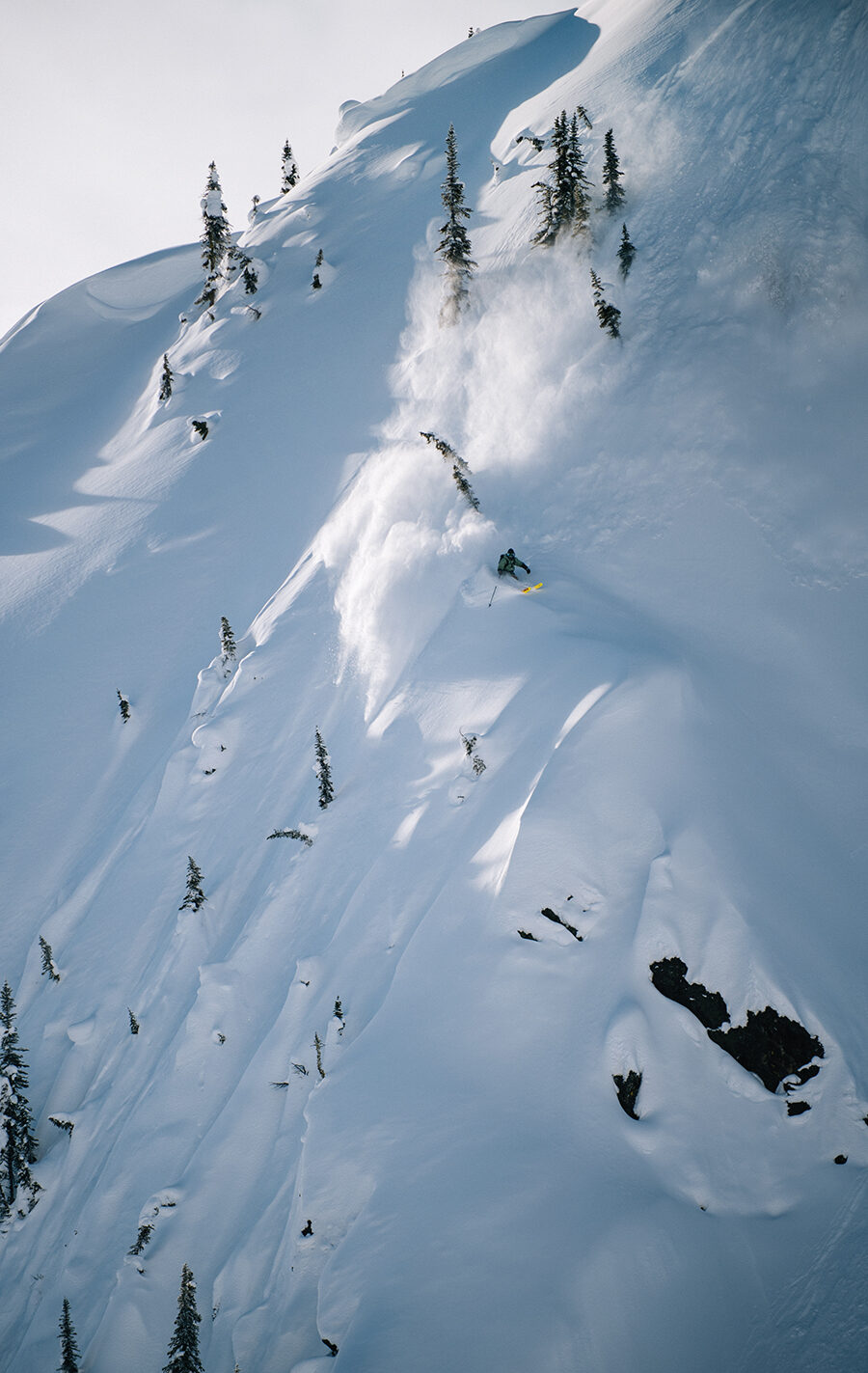 "It was the only outerwear he brought on the trip," Lowe continues. "I'm sitting there thinking, 'Bro, you're gonna be miserable in that.' But he fucking sent it. You couldn't tell it was his first time on skins. He was as fast, if not faster, than the others in the group."
Ollila didn't find the uphill learning curve to be too much of a problem, but the access it provided certainly struck a chord.
"I don't think it was that difficult even though it was my first time," Ollila admits. "It was a lot of learning how to walk with the skins and do kick-turns, but I was surprised how easily you can move from one zone to another. That's not something I expected."
Alright, so the intrigue isn't with a former Olympian's innate touring skills. But staying safe in the backcountry, and intelligently navigating the risks inherent in avalanche country with a novice, that's a different story, right?
"We all tried to teach him a little bit each day about all of the security aspects of moving into a backcountry zone," says Merel. "But he's not stupid. He got it pretty quickly. I think the biggest adjustment was learning how to scope a line or take a chance on a zone, because sometimes you think a spot is doable, but when you get to it you realize the landing is too flat or something. You need to learn to sharpen your eyes."
"It was up to Duncan and I to assess everything because Antti hadn't really done much snow science," says McChesney. "Some of the aspects we were on were sketchy and we had to back off. There's a bit more responsibility on the group when someone hasn't been out there a ton. But, for the most part, we had great snow stability."
Even for a skier with Ollila's impressive resume, having that group to bounce questions off of while in an environment that was out of his comfort zone was imperative.
"It was everything, that mentorship," says Ollila. "If I was there all by myself or with some other skiers who never did anything like this, not much would have happened. Tim and Duncan showed me what's possible in the backcountry and how everything works. Seeing those guys pick the lines they wanted was super important for me."
While there was a bit of a learning curve, as Merel says, Ollila is a "cat on skis," so it wasn't long before he was charging pillow lines and finding ways to turn the big-mountain features of the Selkirks into his personal terrain park.
"[Ollila] adapted really quickly," says McChesney. "He was definitely a little more trick-focused. Where Duncan and I were just trying to ski pillow lines, Antti would find places to put little jumps up. He always threw something crazy, he just has such a crazy bag of tricks. And he was always so stoked, he just kept the group's energy high."
Still, nothing about a professional skier learning a new skill on two planks is exactly breaking news. So what's the bigger story here? Is this the signal of the advent of a new movement by Faction to move entirely into the foot-powered realm? Maybe a way for the brand to position itself as an eco-friendly paragon in a rapidly changing climate?
"It's a lot slower pace, and it's a lot more immediate and tranquil, and I'm glad more people are taking an environmental stance on it," says Adams, with regards to human-powered freeride skiing. "That being said, I'll continue [using] whatever tools it takes to get out in the mornings, whether it's a heli or a sled. As destructive as some of that stuff is, it's so convenient."
That basic sentiment–yes, we should be alarmed at the rate of climate change but no, they weren't trying to be some trendsetters or activists–was echoed by all on the trip.
"It's nice to limit your whole carbon emissions. And I love hiking and backpacking in the summertime; working hard to get up and then going back down," says McChesney. "But that definitely wasn't the reason for the trip."
All told, what's the deeper meaning behind it all? Well, there's this: Lowe and McChesney actually grew up as childhood friends in Bozeman, Montana. They were close throughout grade school, until McChesney's family moved away and–as Lowe says–the two "went our separate ways for whatever reason after middle school." Prior to this trip, it had been years since the two had talked.
"I didn't even know what Max was up to prior to this," says McChesney. "I didn't know he was our photographer. I heard he was coming, and I had seen some of his directing and filming work over the past couple years outside of skiing. I guess I never really thought I'd be on a backcountry hut trip with Max."
"It's cool to have communities like this," Lowe says of reconnecting. "Being in the ski community, it's a pretty huge testament to the fact our worlds are all a lot more intertwined than we might imagine. I hadn't seen Tim in years, and suddenly after a long day of airplanes and buses he picks me up at a gas station in Golden, BC. My childhood buddy picks me up and we go slay powder in the mountains for a week and call it work. I think that just shows the power imbued in all these experiences we're all chasing. There's more to it than just skiing I think."
The inaugural Faction backcountry BC trip didn't produce high stakes drama that bore out some divine life lesson—a common trend in today's adventure-based web videos. Maybe there wasn't something overtly groundbreaking about it. Perhaps, the narrative wasn't so profound–it was simply a beautiful seven days enjoying the tranquil Canadian wilderness, an opportunity to teach friends new skills, to relish in picture perfect conditions and ski some deep snow. It could have just been an excuse for a group of pros to push their collective comfort level on a first-ever backcountry quest. Maybe, it was just a chance for two childhood friends to reconnect after years apart, to bond over a shared passion and to enjoy a couple beers–even if the supply of suds was running dangerously low.
In short, it was simply a damn good time.
This story originally appeared in the December 2018 issue of FREESKIER (21.3), The Backcountry Issue. Click here to subscribe and receive copies of FREESKIER Magazine delivered right to your doorstep.