We've teamed up with our friends over at OpenSnow.com to bring you weekly powder forecasts for the upcoming season. Each Wednesday, we'll fill you in on where the powder will be piling up that coming weekend, making it that much easier for you to go out and get pitted. Our first installment will have skiers in the Pacific Northwest, Midwest, and Northeast jumping for joy. Take a look at where the snow will fall in the coming days:
Pacific Northwest
The powder hounds that call the Pacific Northwest home are sure to be happy with the forecast for this upcoming weekend. It looks like the snow will move into the area on Wednesday evening, with areas like 49 Degrees North and Stevens Pass projected to received a dusting overnight. From there the heavy precipitation will really start to move in, as Alpental and Mt. Baker will reap the benefits of the Pacific storm system. Mt. Baker, the undisputed powder king of North America, is projected to get hit with 3 to 5 inches during the day Thursday, with another 3 to 5 projected for that night. It doesn't stop there for Baker, as 5 to 9 inches is projected to fall Saturday night, and 4 to 8 on Sunday night. Although it won't receive as much snow as its brother to the north, Alpental skiers will be more than happy with the 3 to 7 inches they are projected to receive on Thursday night.
As for the rest of the PNW, resorts in Oregon should expect a bit of the white stuff that their neighbors to the north will be enjoying. The Mt. Hood area will receive the most precipitation, as Mt. Hood Meadows is projected to see 3 to 7 inches on Thursday night, as well as an additional 1 to 2 on Friday. Timberline Lodge will see a similar amount of accumulation, about 3 to 7 inches on Thursday night and 1 to 3 throughout the day on Friday.
Click here for the complete Pacific Northwest forecast.
This week's weather model for the United States, courtesy of OpenSnow.com.
Northern Rockies
The Northern Rockies have a chance at seeing a bit of accumulation this weekend, with the best chances falling in the states of Idaho and Montana. Montana Snowbowl is projected to receive 2 to 4 inches on Friday, with an additional 1 to 2 projected for Friday night. Farther north, Whitefish Mountain Resort can expect 1 to 2 inches on both Friday and Saturday.
In Idaho, Lookout Pass is projected to receive the most snow starting Thursday night, with 1 to 2 inches expected to fall, following by 3 to 5 during the day on Friday, and 1 to 3 Friday night. Silver Mountain will also receive some good accumulation in the form of 1 to 3 inches on Thursday night, 1 to 3 on Friday, and another 1 to 3 on Friday night.
For more daily weather reports, click here.
Colorado
After abundant snowfall for the past couple of weeks, Colorado will only see a slight chance at precipitation this weekend. Resorts along the Front Range, including Arapahoe Basin, Eldora, Loveland, Keystone, Breckenridge, Copper Mountain, and Winter Park all have a chance to see some light snow throughout the weekend.
For daily Colorado powder forecasts from OpenSnow founder Joel Gratz, click here.
Utah
Utah has a fairly dry outlook for the weekend, with only two resorts expecting any snowfall. Hidden gem Powder Mountain should expect about 1 to 2 inches of the white stuff on Friday, while Beaver Mountain, located near the Idaho border, should also expect 1 to 2 inches on Friday, and a possible dusting on Saturday night.
Stay up to date on weather in the Beehive State thanks to Evan Thayer.
The Sierra Nevada
Slightly warmer temperatures will invade the Sierras this week, in the 30 to 40 degree range. Single digit temperatures will remain at night, but inversions may bring the temperatures up at higher elevations. The best chance for new snow will come next week.
Bryan Allegretto provides daily snow forecasts for California, here.
The Northeast
Northeastern skiers rejoice! Moderate to heavy snowfall is expected in your neck of the woods. Beginning Wednesday, Northern Vermont resorts like Jay Peak, Mad River Glen, and Stowe have a shot of 3 to 5 inches of accumulation, with another couple of inches expected through Thursday. The next significant snowfall for the region will come on Saturday, this time the Southern Vermont resorts like Mount Snow, Killington, and Magic Mountain expected to receive anywhere from 3 to 7 inches.
In New Hampshire, the best bet for significant accumulation will come on Saturday night. Cannon Mountain, Cranmore, Crotched Mountain, Loon Mountain, Mount Sunapee, Waterville Valley, and Wildcat are all projected to receive anywhere from 2 to 8 inches of the white stuff through the night, with another couple of inches set to fall during the day on Sunday. Maine will also get in on the powder party on Saturday night, with big accumulation totals projected (anywhere from 5 to 11 inches) for Baker Mountain, Big Rock, Hermon Mountain, Mt. Jefferson, Saddleback, and Sugarloaf.
New York may have the best weekend of all. On Wednesday through Wednesday night, 7 to 12 inches are projected for Buffalo Ski Club, 7 to 12 inches at Cockaigne Ski Area, 8 to 13 at Kissing Bridge, 8 to 16 at McCauley Mountain, and 12 to 18 at Snow Ridge. The next significant snowfall will come on Saturday night, as 7 to 11 inches are projected for Four Seasons Golf and Ski, 6 to 10 at Gore Mountain, and 7 to 11 at both Snow Ridge and Song Mountain.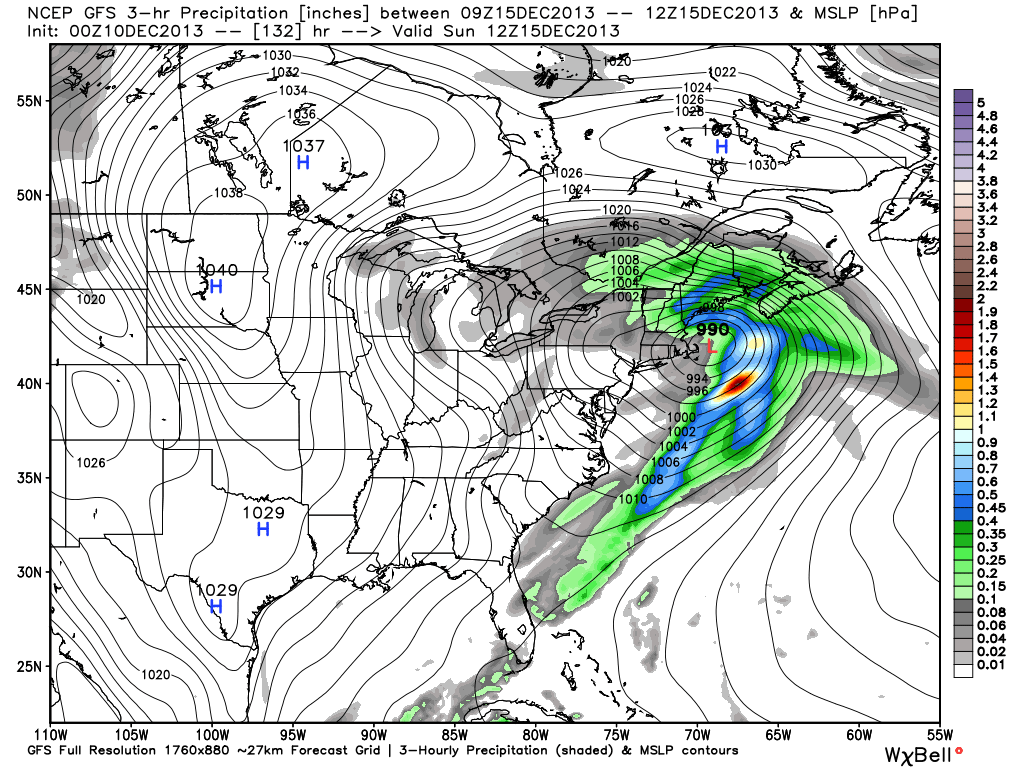 Weather model for the Northeast. Graphic courtesy of OpenSnow.com.
Brian Clark heads the New England snow forecasts with the New England Daily Snow.
The Midwest
The Midwest received a couple of inches of new snow thanks to a recent storm, but now the weather is bitter cold and the conditions are icy. Michigan has the best chance to receive new snowfall this weekend. Mont Ripley is projecting 3 to 5 inches on Wednesday night, and Michigan's powder king Mount Bohemia could see 1 to 2 inches on both Wednesday night and Thursday. From there, Saturday night will be the next chance for a snow event with a possible 1 to 2 inches falling at resorts like Big Powderhorn, Blackjack, Boyne Mountain, and Indianhead.
For more from the Midwest, follow OpenSnow's Andrew Murray.
Be in the know when it comes to powder chasing this season. Sign up for our weekly Powder Alert newsletter.