This week a storm will begin to make its way across the northern portion of the United States, with resorts in states like Idaho, Montana, Washington, and Michigan all standing to benefit from significant snowfall totals. Here's where else to expect some powder through Sunday night:
Colorado
After a fairly dry week in Colorado, some snowfall is expected to hit the state starting Wednesday night. A storm system will be moving into the Western United States, and will be dropping snow in Colorado in two stages. Wednesday night the snow gods will drop an estimated 1 to 2 inches of snow at elevations above 8,000 feet, for all areas of the state. A dusting of snow could fall on Thursday, but the next chance for accumulation will be Friday, with resorts like Aspen/Snowmass, Beaver Creek, Crested Butte, and Steamboat standing the best chance at grabbing a couple of inches from the storm. On Saturday, most of the state should see anywhere from 1 to 4 inches of snow. Steamboat, Vail, and Winter Park are all projected to have 2 to 4 inches of new snowfall, with a possibility of 1 to 2 more Saturday night.
For daily Colorado powder forecasts from OpenSnow founder Joel Gratz, click here.
Utah
Utah is looking to get in on the action towards the end of this week, with two chances for snow accumulation in the forecast. Alta, Brighton, The Canyons, and Snowbird are all projected to see 2 to 4 inches of snow during the day on Thursday, while Deer Valley, Park City, and Solitude could see 1 to 3. The next chance for snowfall comes on Saturday, where Eagle Point, located in the southwestern portion of the state, could see anywhere from 3 to 7 inches of the white stuff. Most other resorts in the state will stand to benefit from 1 to 3 inches of snowfall.
Stay up to date on weather in the Beehive State thanks to Evan Thayer.
Weather map looks good for the northern United States, courtesy of OpenSnow.com.
The Northern Rockies
Montana and Idaho look to receive the most snowfall in the Northern Rockies as a storm moves into the area on Wednesday, but Wyoming should get in on the action as well.
Idaho's Lookout Pass and Bald Mountain each have a shot at 2 to 4 inches of snow during the day on Wednesday, as well as up to 4 inches on Wednesday night. The big snowfall accumulations should hit the state starting on Friday and Friday night. Bald Mountain could see totals of up to 9 inches, Cottonwood Butte and Snowhaven could see 12 inches, and Pebble Creek may have 7 inches of new snow.
Montana's best bet a significant snowfall will come on Wednesday night for most areas of the state. Big Sky can expect 3 to 6 inches from Wednesday night into Thursday afternoon, Discovery Ski Area should have 3 to 10 inches on the ground by that point, and Showdown Mountain could see 4 to 9 inches. There's another chance for a couple of inches of new snow on Friday night as well for areas such as Bridger Bowl, Lost Trail Powder Mountain, and Maverick Mountain.
Thursday and Friday night the storm will move into Wyoming. Jackson Hole, who recently opened up its Headwall hike-to terrain, should see 1 to 3 inches of snow on Thursday, and then anywhere from 3 to 10 inches of snow starting on Friday night and lasting into Saturday night. Snowy Range, in the southeastern portion of the state, could see 3 to 10 inches of new snow starting Thursday and ending Friday morning, while Hogadon should expect 3 to 7 inches of powdery goodness throughout that time as well.
For more daily weather reports, click here.
Pacific Northwest
The folks in the PNW should look towards Friday and Saturday as being good days to chase some powder. Friday will be a storm day in Washington, with plentiful free refills offered, where 3 to 7 inches of new snow will fall at Mt. Baker, 4 to 8 at Stevens Pass, 5 to 9 at Alpental, and 3 to 7 at Crystal Mountain. The snow should continue through the night at Baker, with 3 to 5 additional inches expected.
Oregon has a slight chance at some dustings on Wednesday, but will have a storm day creep in on Friday. 3 to 7 inches will fall at Cooper Spur, 6 to 10 at Mount Hood Meadows (with an additional 2 to 4 expected Friday night), and 3 to 5 at Spout Springs.
Click here for the complete Pacific Northwest forecast.
The Sierra Nevada
The best chance for snow in the Sierras will come on Thursday. Mammoth Mountain and June Mountain can each expect 3 to 5 inches during the day, while Snow Summit and Snow Valley should see 2 to 4 inches. Not much is expected in the Tahoe region, as Alpine Meadows, Heavenly, Kirkwood, Northstar, Sierra-at-Tahoe, and Squaw Valley could all see up to 2 inches.
Bryan Allegretto provides daily snow forecasts for California, here.
The Northeast
A storm is set to hit the Northeast starting Wednesday, and will blast New York with about 3 inches of new snow. Cockaigne Ski Area, Kissing Bridge, McCauley Mountain, and Snow Ridge could all see up to 5 inches of new snowfall accumulations.
From there the storm will move into Vermont, where New England's undisputed powder king Jay Peak, is expected to see up to 10 inches of snow from Thursday through Friday night. The rest of Vermont's resorts could expect anything from a dusting to 4 or 5 inches throughout that time period.
New Hampshire skiers will have a storm day to work with on Friday, where 1 to 3 inches is expected to fall at Bretton Woods, Cannon Mountain, Loon Mountain, Waterville Valley, and Wildcat (who could see an additional inch or two).
Significant snowfall is expected in Maine during the day on Friday. Saddleback, Sugarloaf, Sunday River, and Hermon Mountain should all expect anywhere from 2 to 6 inches of the white stuff.
Brian Clark heads the New England snow forecasts with the New England Daily Snow.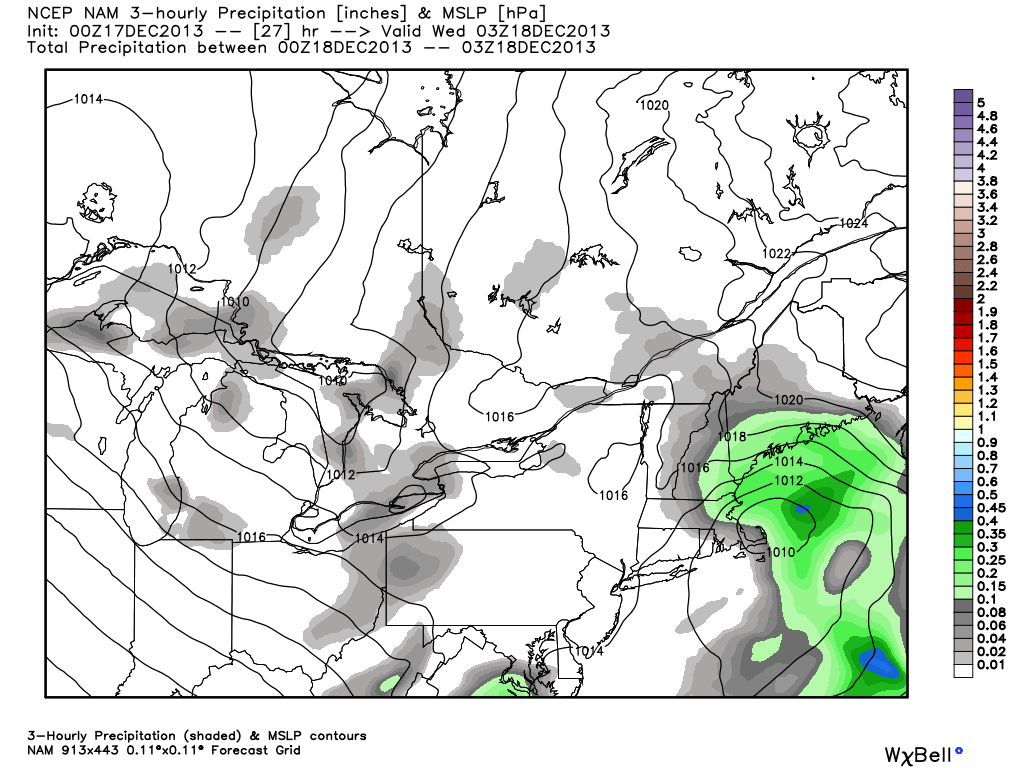 Weather model for the Northeast, courtesy of OpenSnow.com.
The Midwest
Michigan should see snow beginning on Thursday night. Boyne Mountain, Caberfae Peaks, Crystal Mountain, Hanson Hills, and Mt. Holiday Ski Area, are all expected to receive 2 to 6 inches of snow through the night. Michigan will also see more snowfall on Sunday, with Cannonsburg expecting 2 to 6 inches, 3 to 7 at Apple Mountain, 3 to 5 at Bittersweet, and 3 to 7 at both Mount Holly and Mount Brighton.
Wisconsin's best bet at snow will be on Thursday night, as 2 to 4 inches is projected fall at Granite Peak, Hidden Valley, and Nordic Mountain.
For more from the Midwest, follow OpenSnow's Andrew Murray.
Be in the know when it comes to powder chasing this season. Sign up for our weekly Powder Alert newsletter.