Our best advice to you powder chasers this week: head to Mt. Baker. After receiving 31 inches of new snow Monday night into Tuesday, the Northwest's powder king is expecting to be hit with another storm in the middle of this week. Utah is expecting a refresh of snow beginning Wednesday and lasting into Friday, and could see snow totals nearing two feet. Storms are also poised to hit New England at the beginning of this week. Check out the details below, compiled with help from our friends at OpenSnow.com, to see where the snow will fall this week.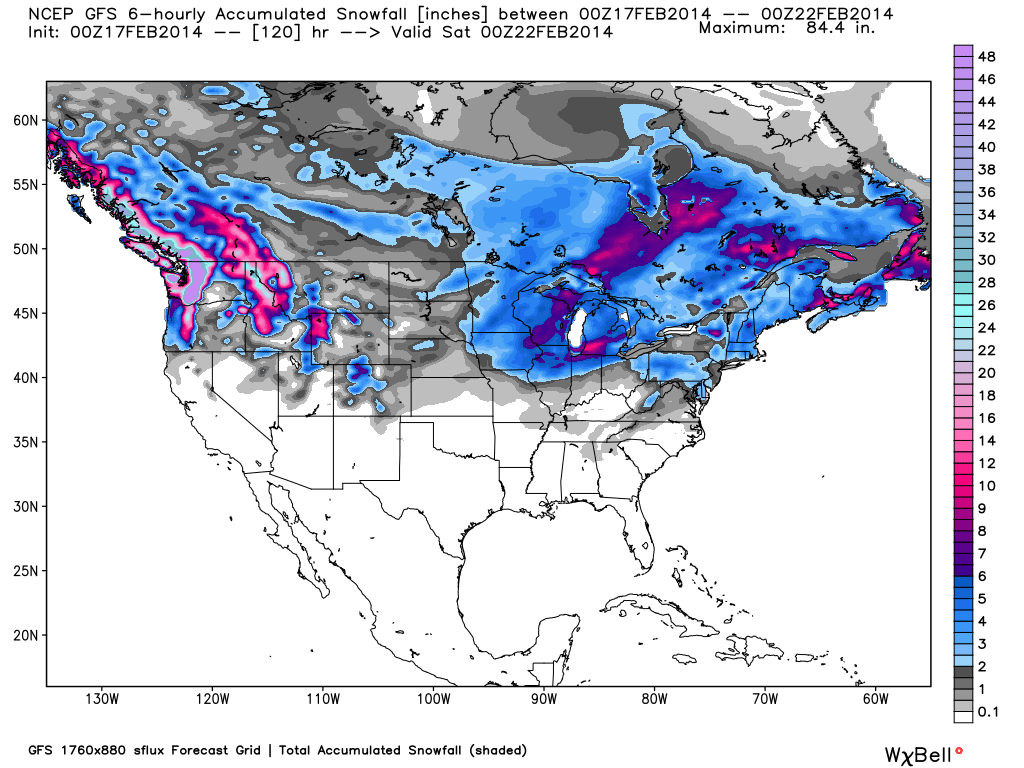 This week's accumulation forecast, courtesy of OpenSnow.com.
The snow moves into Washington beginning on Tuesday, and there will be a lot of it throughout the week. Mt. Baker is projected to have 41 to 68 inches of new snowfall by Saturday morning, continuing its current hot streak with the weather patterns. The other usual big players in Washington should get in on the action as well, with Alpental projected to receive 33 to 56 inches, Stevens Pass expected to see 25 to 49 inches and Crystal Mountain looking at 23 to 43 inches in that time period.
In Oregon, the snow will fall beginning on Tuesday and lasting into Friday morning. Timberline and Mount Hood Meadows should see the most snowfall, 31 to 58 and 29 to 51 inches, respectively, while Mount Bachelor is set to receive 13 to 29 inches of new snow.
Crystal Mountain's base cam. Click refresh for up to date snow images.
Big snowfall totals are headed to Utah beginning on Wednesday. The Little Cottonwood Canyon duo of Snowbird and Alta are looking at 16 to 28 inches of snow by Friday afternoon, while the Park City trio of Canyons, Deer Valley and Park City Mountain Resort are expecting more in the 11 to 18 inch range.
Farther north, Snowbasin and Powder Mountain will benefit from 11 to 22 inches of powdery goodness.
Check out Snowbasin's snow stake cam for up-to-the-minute snow totals. Click refresh to update image.
The Northern Rockies…
Storms are also set to hit the Northern Rockies, dropping new snowfall for the majority of this week. In Montana the snow will start to fall on Tuesday night, and won't cease until Saturday night for many ski areas; Big Sky is looking at 8 to 21 inches, Bridger Bowl should see 8 to 21 inches and Montana Snowbowl can expect 16 to 34 inches of new snow.
Idaho has a similar snow forecast to that of Montana; From Tuesday through Friday night, Lookout Pass is expecting 21 to 44 inches of new snow, Schweitzer should see 12 to 29 inches and Silver Mountain is projected to have 18 to 38 inches.
Wyoming's Grand Targhee is projected to receive 12 to 26 inches of snow through Saturday night, while Jackson Hole is looking at 15 to 34 inches.
The Schweitzer Mountain Basin Express cam. Click refresh for updated snow images.
Powder days will commence for most areas along the I-70 corridor beginning on Thursday. Storms will move in on Wednesday night and areas along the Continental Divide, like Arapahoe Basin, Loveland and Winter Park, will all see 9 to 24 inches of snow by Saturday night. Areas further south, such as Crested Butte and Aspen/Snowmass, will likely end up in the 3 to 12 inch range.
Winter Park's Sunspot cam. Click refresh for updated images.
Wednesday should be good to most of the Northeast; From Wednesday through Thursday night, Vermont's Jay Peak, Mad River Glen, Smugglers' Notch and Stowe should all see 2 to 5 inches of the white stuff.
New Hampshire will see similar snow totals, with Attitash, Crotched, Loon and Waterville Valley all expecting to see 2 to 5 inches of snow by Thursday.
Much the same for Maine, as the northernmost New England state is expecting around 2 to 5 inches of snow by Thursday at Camden Snow Bowl, Hermon Mountain and Sunday River.
Check out the view of Mt. Mansfield from Stowe's Octagon cam. Click refresh to update image.
California looks to remain dry this week, with a chance for some snow showers on Tuesday night and Wednesday at Mt. Shasta Ski Park, Soda Springs and Tahoe Donner.