As if in response to the massive snow totals from last week's Winter Storm Vulcan in the Northeast, the western United States is set to get a solid refresh of snow this week, particularly in the Pacific Northwest. The Northeast will also look to continue its good fortunes, as chances for snow will occur throughout the end of the week. To see where the snow will fall in your region this week, check out the details below, and be sure to check OpenSnow.com for up-to-date forecasts and snow totals.
This week's precipitation map. Image courtesy of OpenSnow.com.
The snow will move into Washington on Wednesday night, with projected snow totals of 5 to 9 inches at Mt. Baker. Farther south, Stevens Pass is looking to receive 9 to 19 inches by Thursday night.
In Oregon, the snow totals will be slightly more modest, as Mt. Hood Meadows, Mount Bachelor and Timberline should all see 1 to 3 inches of new snow by Thursday morning.
Check out the Stevens Pass base cam during the storm. Hit refresh to update snow images.
The Northern Rockies…
After a solid storm to begin the week in Montana, the refresh will come on Wednesday. By Friday, Montana Snowbowl is expecting 5 to 12 inches of new snow, while most other areas in the state with see 3 to 7 inches.
Wyoming will see several chances for a bit of snow towards the end of the week, but nothing too significant. The best chances at powder days in Idaho will come on Thursday and Friday, as a projected 2 to 5 inches of snow is set to fall at Bald Mountain and Lookout Pass.
The Montana Snowbowl web cam. Hit refresh for updated snow images.
2 to 4 inches fell across the state on Monday and Tuesday, and the weather will remain dry through Friday. Then, a weak system will move in on Friday and Saturday, dropping 1 to 2 inches of snow at Arapahoe Basin, Aspen, Crested Butte, Loveland and Breckenridge, along with most other areas of the state.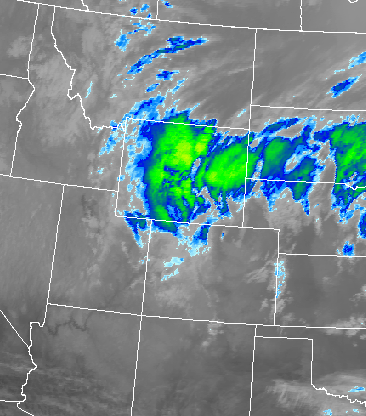 Radar image from Tuesday morning over Colorado. Image courtesy of OpenSnow.com.
The storm that hit early in the week produced much more snow than projected, with most totals in the 5 to 11 inch range. However, the rest of the week looks to be dry for Utah.
Snow will continue to fall across the Northeast this week. In Vermont, the snow will begin on Wednesday and not cease until Sunday night for many areas. Jay Peak is looking at 5 to 14 inches in that time span, while southern resorts like Okemo will be in the 2 to 6 inch range.
It looks like this week's big winner in New Hampshire will be Loon Mountain, as a projected 2 to 5 inches will fall Wednesday night into Thursday, followed by another 2 to 8 from Saturday through Sunday.
After 1 to 3 inches of snowfall on Wednesday night for most of Maine, Sugarloaf, Sunday River and Saddleback are all expecting 2 to 4 inches on Saturday.
Check out this video from Jay Peak, chronicling the deepness from Winter Storm Vulcan.
Chances for decent snowfall abound in Michigan this week. Marquette Mountain, Mont Ripley and Mount Bohemia could also see 1 to 2 inches from Wednesday to Thursday morning. Then the snow will pick up again on Friday, as those areas are looking at an additional 4 to 8 inches by Saturday night.
In Minnesota there will be a couple of chances of snow early in the week, but on Sunday night, 2 to 6 inches are projected to fall at Buck Hill, and a solid 4 to 8 at Mount Kato.
The Marquette Mountain web cam. Hit refresh for updated snow images.
It looks like the Sierra can expect spring skiing conditions this week. Thankfully, California is among the best states for sunny spring sessions on the hill. OpenSnow's Bryan Allegretto is hopeful that new snow will return to the state by the end of next week.