The Pacific Northwest, Rocky Mountains and Sierra Nevada will see a break in the action weather-wise this week, but New England is in the midst of a storm of epic proportions.
According to OpenSnow.com, the Northern Rockies will see a nice refresh of snow over the weekend, but Winter Storm Vulcan is pounding the Northeast, where some areas could see upwards of 20 inches of fresh pow.
Snow forecast image, courtesy of OpenSnow.
Heavy snowfall has already begun pounding New England, thanks to Winter Storm Vulcan. Through Wednesday night, resorts in Maine such as Sugarloaf and Sunday River can expect anywhere from 15 to 23 inches of new snowfall. Vermont will see similar snow totals, as Mad River Glen is expecting 15 to 23 inches in that same time frame.
Weather radar for New England, courtesy of wunderground.com.
The Northern Rockies…
The action in Montana will be minimal on Wednesday and Thursday, with 1 to 2 inch accumulations for most of the state on Thursday and Friday. Big snow totals will be coming towards the weekend, however, as Lost Trail Powder Mountain and Big Sky are both expecting about a foot of snow on Friday going into Saturday.
Wyoming will see something similar with the weather, as Meadowlark Ski Lodge is looking at up to 7 inches by Monday, and Jackson Hole, Teton Pass and Snow King are looking at about 5 inches.
In Idaho, Silver Mountain could see six inches of snow on Friday, and Lookout Pass is expecting about five.
Jackson Hole's gondola webcam. Click refresh for updated snow images.
In Oregon, about 7 inches of new snow is expected to fall at Mt. Hood Meadows and Timberline Lodge on Friday.
As for Washington, the snow will start to fall on Thursday, depositing an expected 10 inches of powder at Stevens Pass and Mt. Baker (big surprise…), while Alpental should see about 7 inches.
Stevens Pass base cam. Click refresh for updated snow images.
A weak system is set to hit Colorado on Saturday. Eldora, Arapahoe Basin, Breckenridge, Loveland and Keystone are looking at about 3 to 5 inches of fresh powder throughout the day on Saturday. The San Juans will be looking at about 1 to 3 inches. Looking to next week, OpenSnow's Joel Gratz is predicting chances for snow every for days.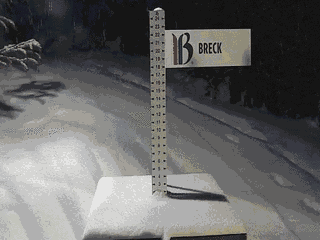 Snowfall totals at Breckenridge from 5 a.m. Tuesday morning through 5 a.m. Wednesday morning.
According to the Utah Daily Snow, Evan Thayer believes that Utah will remain dry for about the next week or so, with a good chance for more snow towards the end of March.
This week the Sierras can expect sunny days with a bit of wind. Cold air will move in next week, bringing up the chances for snowfall.