If there was one trending topic among the ski industry last week (besides SIA 2014), it was the epic amounts of snowfall seen around the country. Thankfully, according to our friends at OpenSnow.com, that trend is projected to continue for the next couple of days. Colorado will continue to see snowfall almost every day this week (although not quite the three feet received by many resorts last week), California will also see more chances for decent snowfall, and the eastern United States will be hit with a significant storm, as well.
Colorado…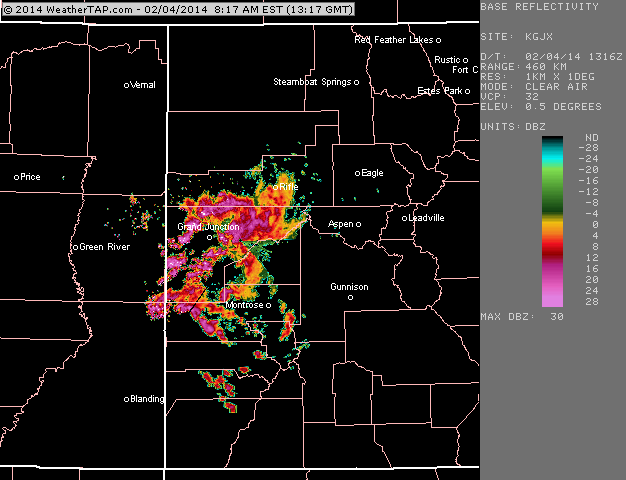 Tuesday's radar shows heavy snow over Grand Junction, CO moving east. Via Weathertap.com.
Snow is projected to fall across the state on Wednesday, Thursday and Friday in the Centennial State. The storm that sits over the state tonight will provide off and on bursts of snowfall throughout Tuesday evening into Wednesday; another system will move into the state on Wednesday evening lasting through Friday night. When the snow halts towards the end of the week, resorts in Summit County like Breckenridge, Arapahoe Basin, and Copper Mountain can expect 9 to 19 inches, and ski areas in the central mountains like Aspen/Snowmass and Crested Butte should see 8 to 19 inches, as well. The southern portion of the state could see a bit higher snow totals, with projections of 16 to 33 inches at Wolf Creek and Silverton.
Arapahoe Basin's Snow Plume Refuge cam. Refresh for up-to-date images of new snowfall.
For daily Colorado powder forecasts from OpenSnow founder Joel Gratz, click here.
Utah…
Utah is in store for some heavy snowfall towards the end of this week, especially in the Big and Little Cottonwood Canyons. Wednesday will be mostly quiet, with snow developing late at night and not ceasing until Saturday night. Brighton Resort could be the biggest winner from this storm, with projections of 18 to 38 inches of snow by Saturday night. Other big totals could come out of Alta and Snowbird, where projections are in the 17 to 37 inch range.
Snowbird's Mineral Basin web cam. Refresh for up-to-date snowfall images.
The Northeast…
According to OpenSnow.com's Brian Clark, a big snow event is projected to occur for much of the east coast beginning on Wednesday. Both Vermont and New Hampshire are in for significant snowfall, with the big winners in Vermont expected to be Bromley, Killington, Magic Mountain and Stratton (8 to 14 inches by Wednesday night); New Hampshire's best powder will be found at Crotched Mountain, with 9 to 14 inches by Wednesday night; Granite Gorge, 8 to 14 inches by Wednesday night; and Pats Peak, 8 to 14 inches by Wednesday night.
Snowfall projections for NH and ME. Via National Weather Service.
With the more southernly track of the storm, Massachusetts ski areas will be blanketed with snow come Wednesday night. Ski areas in the Berkshires like Berkshire East and Jiminy Peak should have 9 to 15 inches of new snow, while Boston area resorts like Nashoba Valley and Ski Ward can expect 7 to 13 inches of snow.
In New York, Hunter Mountain is expecting 10 to 18 inches of new snow by Wednesday night, with lingering snow showers continuing through Thursday night. Meanwhile, Belleayre Mountain is projected to receive 9 to 17 inches by Wednesday evening, and Windham Mountain could see 10 to 18 inches in that same time frame.
Windham Mountain's base lodge webcam. Refresh for up-to-date snowfall images.
The Northern Rockies…
In the Northern Rockies, Idaho and Wyoming will look to see significant snowfall this week. Wyoming's Jackson Hole has a chance of receiving a couple of inches of snow on Thursday, but the real accumulation will start on Friday and last into Saturday night, with totals coming in the 4 to 11 inch range. Grand Targhee will see a little bit less snow, but should expect 3 to 9 inches by Saturday night.
In Idaho, Magic Mountain is expecting a mid-week dump beginning on Wednesday and continuing through Friday night, with snowfall totals between 11 and 20 inches. Pomerelle will also see some great snow totals coming in the 5 to 12 inch range.
Montana will see a decent amount of snowfall towards the end of the week. Beginning Thursday night snow will start falling over ski areas like Lost Trail Powder Mountain, and Discovery Ski Area, resulting in snow totals in the 9 to 13 inch range. Red Lodge and Showdown Mountain should see a significant dump on Saturday night, with 4 to 9 inches accumulating by Sunday afternoon.
Grand Targhee's peak cam. Refresh for updated snow images.
The Sierra Nevada…
California resorts received a much needed dump of snow last week, which hopefully signals an improvement in weather patterns moving forward. A cold front will move into the area on Thursday into Friday, meaning more snowfall is on the way. Kirkwood, Sierra-at-Tahoe, Sugar Bowl and Squaw Valley are all expecting 3 to 9 inches by the time the storm ends on Friday night, and while that may not seem like much, any and all snowfall in Tahoe is welcome.
Pacific Northwest…
Things look a bit dry for our friends in the Pacific Northwest this week, but a significant storm is scheduled to move into Oregon on Saturday night. Timberline, Mount Hood Meadows and Cooper Spur are all projected to see 6 to 10 inches on Saturday night, meaning Sunday morning will provide epic conditions for you powder hounds out there.