Aspen Snowmass Trail Maps
Get details to the best on-mountain spots at Aspen Snowmass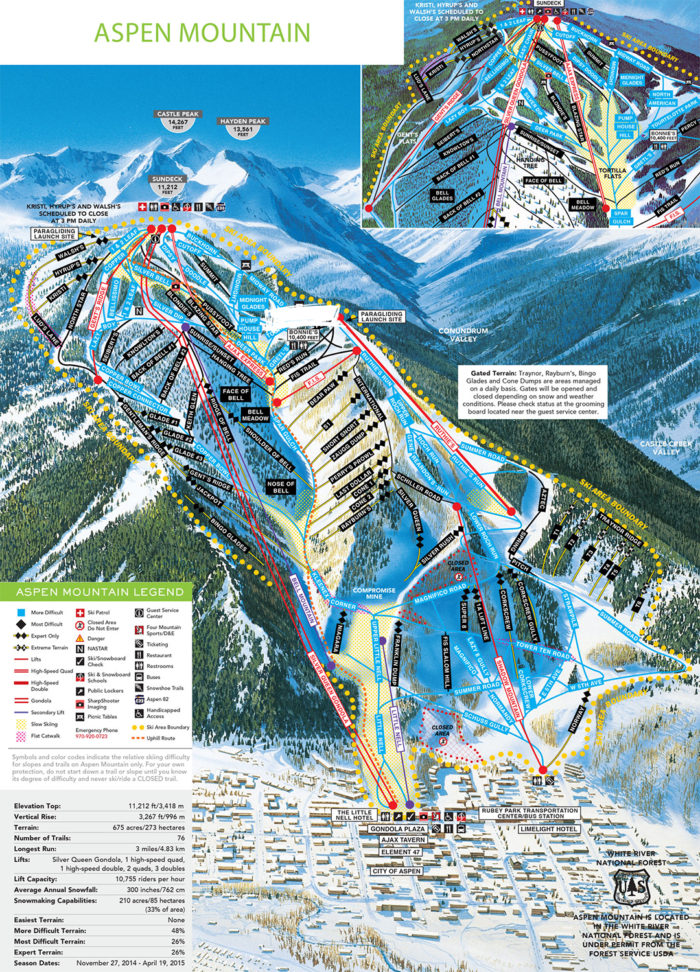 The Best Of Aspen Mountain
1. Best On-Mountain Breakfast
Bonnie's — Get the pancakes.
2. Best Groomer Run
Spar Gulch — "Spar to the bar" will make you want to move here.
3. Best Tree Run
S1 — Part of the famed "Dumps" zone, S1 drops off of the International trail and shoots straight down the fall line into Spar Gulch.
4. Best Gnarly Terrain
Traynor Ridge — Traynor's is defined by six distinct runs, dubbed T1 through T6. Additionally, there are dozens of unnamed chutes and secret stashes.
5. Best Lift To Lap On a Pow Day
Silver Queen Gondola — Rip 3,267 feet of vert, give the legs a break and do it all over again. And again. Another sure bet is the FIS chair, servicing The Dumps.
6. Best Lodge
The Sundeck — You may spot celebrities here.
7. Best Après
The Oasis — The Little Nell's champagne bar, The Oasis, is essentially a mobile patio that roams around Aspen Mountain on "giant skis," pulled by a snowcat. It'll park at various hot spots on the hill— ideal zones for socializing and "hydrating" while soaking in the dreamlike views.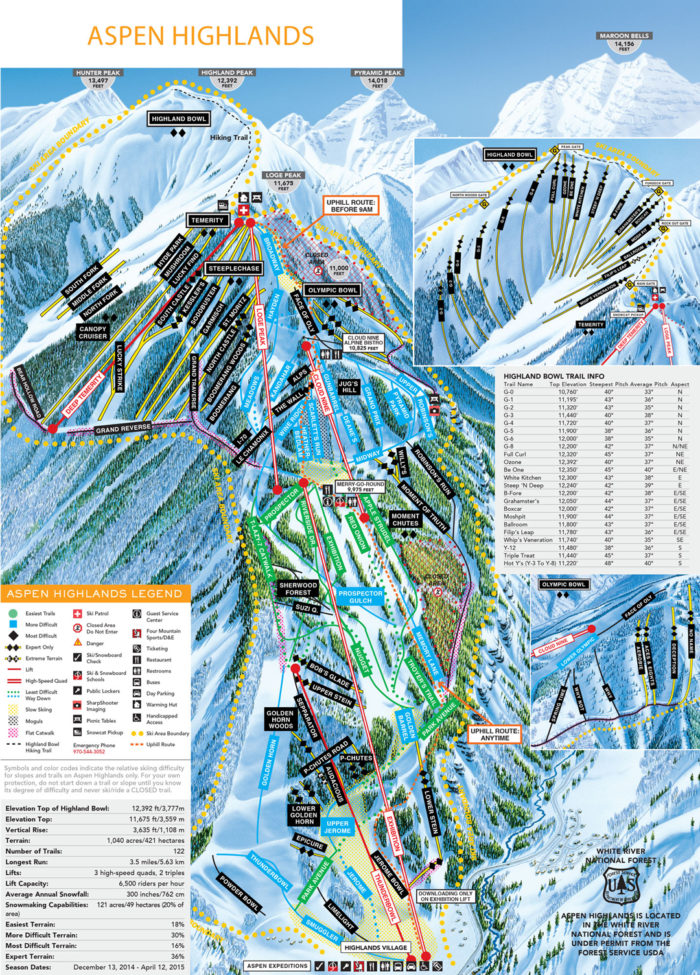 The Best Of Highlands
1. Best Groomer Run
Cloud Nine Zone — The Cloud Nine chair services blue-rated groomers that'll make you giddy.
2. Best Tree Run
Temerity — The Deep Temerity Chair services the best tree zones on the mountain, without a doubt.
3. Best Gnarly Terrain
Highland Bowl — A 30 to 45-minute ridge hike—depending on your pace—awards wide open, sustained pitches littered with big-mountain features or steep, adventurous tree lines.
4. Best Lift To Lap On a Pow Day
Deep Temerity — Deep Temerity enabled laps on Highland Bowl are probably the closest thing to heli-skiing you can find inbounds.
5. Best Lodge
Cloud 9 Alpine Bistro — It's possible to book a lunch reservation here 30 days in advance. Book it early.
The Best Of Buttermilk
1. Best On-Mountain Breakfast
Bumps — Scrumptious food with a front row seat to the action in the terrain parks.
2. Best Terrain Park
Main Park — Home of the X Games, the entire heart of Buttermilk from the top to bottom is one terrain park after another.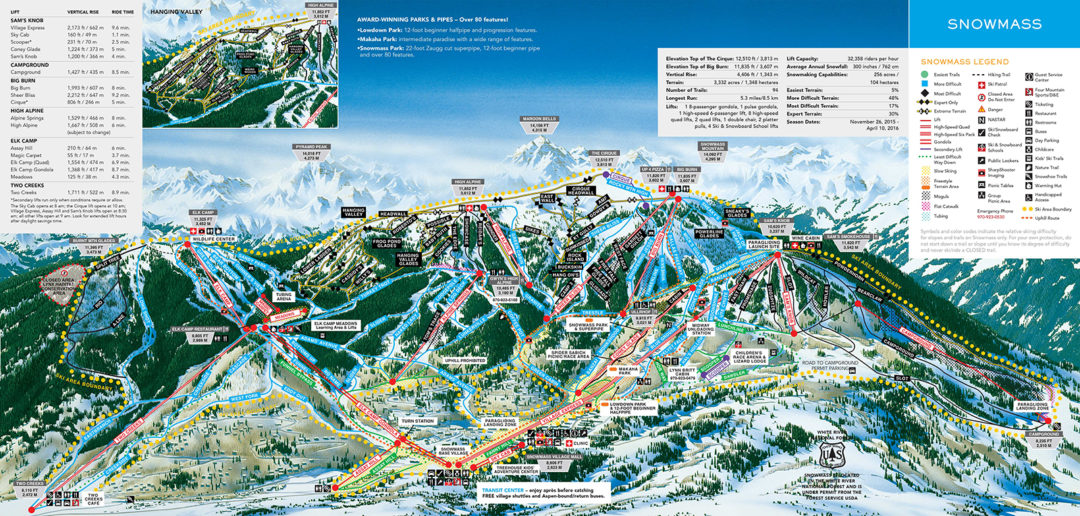 The Best Of Snowmass
1. Best Groomer Run
Sneaky's — The groomers serviced by the Big Burn lift will not disappoint.
2. Best Tree Run
Powerline Glades — Off the Big Burn lift… Track 'em out, then head up to the skier's left and check out Sneaky's Glades. Once you're warmed up, make your way to the Hanging Valley glades for a steeper pitch.
3. Best Gnarly Terrain
Gowdy's — Skier's left of AMF near the Cirque.
4. Best Lift To Lap On a Pow Day
Big Burn — Accesses The Cirque, Gowdy's, Rock Island, the Burn Cliffs and a plethora of other mouth-watering zones.
5. Best Terrain Park
Snowmass Parks — With approximately 100 features in total — including a 22-foot Zaugg-cut Superpipe — this mountain has earned its reputation as one of the best for terrain parks.
6. Best Lodge
Base Camp Bar & Grill — Located slope-side in Base Village, Base Camp is the ultimate slope-side setting for breakfast, lunch and dinner.
7. Best Après
Venga Venga Cantina and Tequila Bar — Savor authentic Mexican cooking served alongside 75 Tequilas and mezcals.
More From Aspen Snowmass
Where hard-working ski bums flourish
Here's the inside line on where to eat, sleep, ski, repeat